[Video] Week 1: The Story Behind Heal Your Child from the Inside Out Book
I'm SO excited to share that my book, Heal Your Child from the Inside Out: The 5-Element Way to Nurturing Healthy, Happy Kids, has been released! The official release date was October 18th!! Woo hoo!! To celebrate its release, I'm launching an all new video series to give you the inside scoop on my book. In my upcoming videos, you'll learn how you can use Chinese medicine and the 5-Elements at home.
Week 1 Video: Who inspired the book & what I never want another parent to have to go through!
Maybe you can relate... has your child ever had a health or behavioral problem and you found Western medicine wasn't enough? Maybe your child was prescribed medications that managed the symptoms, but you wanted more? You wanted to heal the root of the problem. Or maybe you were told that you'd have to wait for your child to outgrow his health issue? I was in the same boat 12 years ago! I couldn't just watch my child suffer and do nothing. I knew I had to find a way to help my son! It's what inspired me to help thousands of other kids, and write a book about it, too. Learn the whole story in the video above.  
Kids not listening? Picky eating problems? Health challenges? Join Robin as she shares how to overcome these common issues by understanding your child's unique 5-Element type and coming up with creative solutions that will work best for your child.
In this e-book, you'll get a picture guide of the 5 most powerful acupressure points that you can use anytime, anywhere to help your kids when they're in need! You learn exactly where to find these acupressure points and even teach them to your kids!
The 5-Elements Can Create Ease and Flow in Your Family Life
According to Chinese medicine, the Five Elements are Wood, Fire, Earth, Metal, and Water. Each Element has corresponding physical characteristics, personality traits, strengths, and challenges that shape each child's overall health and way of being with the world.  One particular way of being will influence your child's personality, health, and temperament above all others—their Dominant Element.
Knowing your Child's Five Element Type will make your life easier because you'll understand your child's needs on a deeper level!
When you look at your child through the lens of the Five Element system, you'll know how to parent your unique child. You'll know what type of school will be a good fit, how to deal with discipline issues, how to balance rest and activity, how much social time your child needs, and so much more. When we discover our child's Dominant Element we begin to see patterns, allowing us to understand the individual child's needs and to make subtle (but profound) changes in how we interact with and parent them. This can free us up, as parents, to love and appreciate the unique traits and quirks that our children bring to our lives. Click Here to get access to 5-Element Questionnaire Now
We can stop feeling worried that we're making the wrong decisions or guilt because we're a "bad mom." There are so many more ways that Elemental Parenting can make your life easier. We're really just scratching the surface! You can learn more about healing your child and Elemental Parenting in my recent book: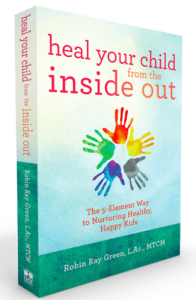 You'll learn how to use the 5-Elements to overcome common parenting challenges like picky eating, kids who don't listen, anxiety, sleep problems, and so much more! Just order my book for FREE access! ORDER HERE!
Complete these 3 Steps to FREE Access to the Webinar:
Step #1: Order the Book from Any of These Sellers:
Step #2: Fill Out the Form Below:
Step #3: Confirm & The Webinar Info Will Be On Its Way to Your Inbox! ENJOY!
Be on the lookout for a confirmation e-mail from us. Once you confirm, you'll get an e-mail letting you know everything is in order. Your access info, along with 2 additional gifts, will arrive in your inbox!  If you have any issues or questions, just e-mail the support team.