6 Tricks to Keep Halloween Healthy
You know what really scares me about Halloween? It's the ingredients in most candy! Aaaaaaaaahhhhh!  It's enough to make me run for the hills on Halloween night!
Ok, so not really… but I am being serious when I say it's frightening to any parent with a kid on a special diet or for those who simply want to avoid processed fake foods with artificial colors, flavors, and preservatives. I thought Halloween would be tough for our family because my boys were on a gluten- and dairy-free diet since they were really young. At times it has been hard, but I've been able to navigate this holiday without too much fuss using a few tricks I've learned over the years.
My Top 6 Tricks for Keeping Halloween Healthy:
1. Talk about sugar ahead of time - why we don't eat it all the time, what happens to our body if we eat too much, and how many pieces of candy your child can pick out
2. Fill 'em up with their favorite dinner. We have the boys choose their favorite meal and let them fill up on that before going trick-or-treating.  They're usually so full from dinner that's there's not much room for candy.
3. Make the evening about collecting the candy - not eating the candy.  Most of the fun is going from house to house with friends, showing off costumes, and using flashlights. At the end of the evening my boys get to pick out a few approved pieces of candy to eat.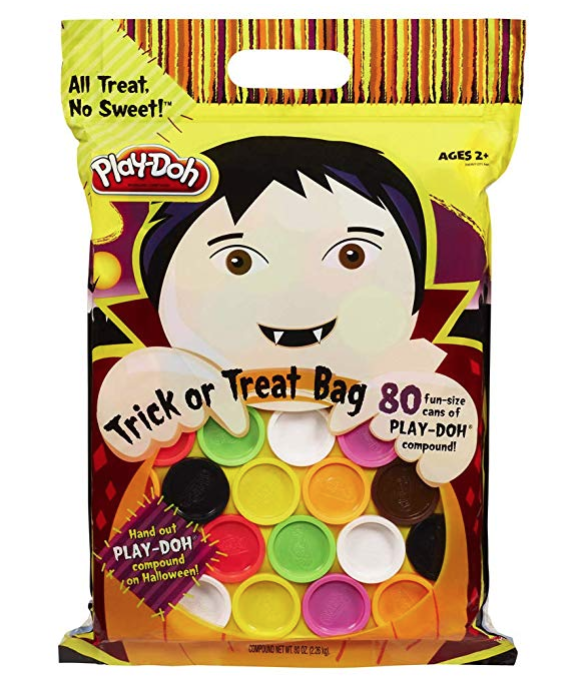 4. If your child is on a special diet, have a back-up.  I always have "back-up" candy in case there was nothing gluten- and dairy-free they can have.  I love the Yummy Earth lollipops because they don't have any artificial colors or flavors or any GMO ingredients.
5. Have the Great Pumpkin or the Candy Witch collect the candy and leave a gift. Since my boys were little the Great Pumpkin would stop by our house, collect the candy, and leave a toy for them. We make a huge production of setting the candy out by the a tree in the back yard and then a toy magically appears!  It's a fun tradition we carry on even today despite my oldest knowing what's really going on.
6. Don't give out candy if you won't let your kids eat it!  That's just torture for everyone! Instead we've always given out non-food treats. The one treat that gets the most rave reviews from small children and even teens is Play-Doh! We buy the little party packs from Amazon.com and they're always a huge hit. 

Here Are Some More Ideas for  Halloween Treats without Scary Ingredients. 
to Download Our PDF:
If you're thinking what's the big deal about eating candy, then let me fill you in on the horrifying ingredients.
Most Halloween candy is loaded with sugar, GMOs, and chemical ingredients. While not a big deal if eaten rarely, most kids consume significantly more artificial colors, flavors, and preservatives than kids 40 - 50 years ago.  Many of these chemical ingredients are known to interfere with attention in children. Then there's the GMOs.  Because most corn grown in the United States is genetically modified, if the candy is sweetened with high fructose corn syrup it is GMO.  GMOs are linked to cancer and inflammatory illnesses, have not been studied for safety, and must be labeled in most industrialized countries.
Rather than give out scary candy, here are some options for healthier halloween treats.


  Sugar is OK to have every once in a while in moderate amounts. And we can make that easy to do by giving out Halloween treats that are healthier for little growing bodies!
I'd love to hear from you. Do you have a healthy Halloween treat that you give out? Share it in the comments below!